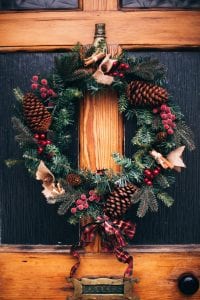 The holidays are a great time to bring the family to the beautiful city of Dover, New Hampshire. Enjoy Christmas shopping at the variety of trendy stores along Dover's vibrant Main Street and enjoy lunch at one of the many popular eateries along Dover's busy thoroughfare. Take a stroll down Washington Street and stop by the Children's Museum with the kids to enjoy the art and activities, masks required of course. If you're planning to be around on New Year's Eve, The Stone Church on Granite Street is hosting the popular band Consider the Source. With so much to see and do, you might as well stay for the weekend!
Finding the right seacoast NH hotel can be a challenge, but there is one that clearly leads the way. If you appreciate old fashioned New England style and charm, one of the best places to stay in Dover, NH is The Silver Fountain Inn and Tea Parlor on Silver Street. As you enter the luxurious courtyard, you are immediately transported to another time where beauty and elegance are everywhere you look.
Since 1871, The Silver Fountain Inn has been welcoming guests to its three-story Victorian bed and breakfast, built as the post Civil War era unfolded. Each individually themed room is expertly decorated and many amenities are available. The Silver Fountain Inn is also proud to welcome their guests to their authentic Tea Parlor for an experience to remember. Enjoy the holidays and your special visit to Dover, New Hampshire. Happy New Year!