Visit our beautiful Dover NH hotel, a Seacoast getaway you will never forget.
Order a bottle of chilled champagne to enjoy upon your arrival
Join us in our elegant parlor for tea and scones or luncheon fare
Relax and enjoy a wonderful stay at The Silver Fountain Inn in one of our elegant rooms that provide the comforts of being home yet with the luxury of being pampered. Call us today at (603) 750-4200
Dover Premier Bed & Breakfast
Built in 1871, the Silver Fountain Inn is a beautifully maintained three-story Victorian Bed & Breakfast inn located in historic downtown Dover, NH. Home to the Williams family for nearly a century, its elegant design remains an excellent example of the post-Civil War era. Relax and enjoy a wonderful stay at The Silver Fountain Inn in one of our nine elegant rooms that provide the comforts of being home yet with the luxury of being pampered. Our room accommodations include a sumptuous breakfast, WiFi, Cable TV, plush robes, mini-fridge, loose leaf teas & so much more.
Now offering our own published History Book, Christmas Ornaments, Gift Certificates, Teas and more! Stop by or shop on line here by clicking on the book!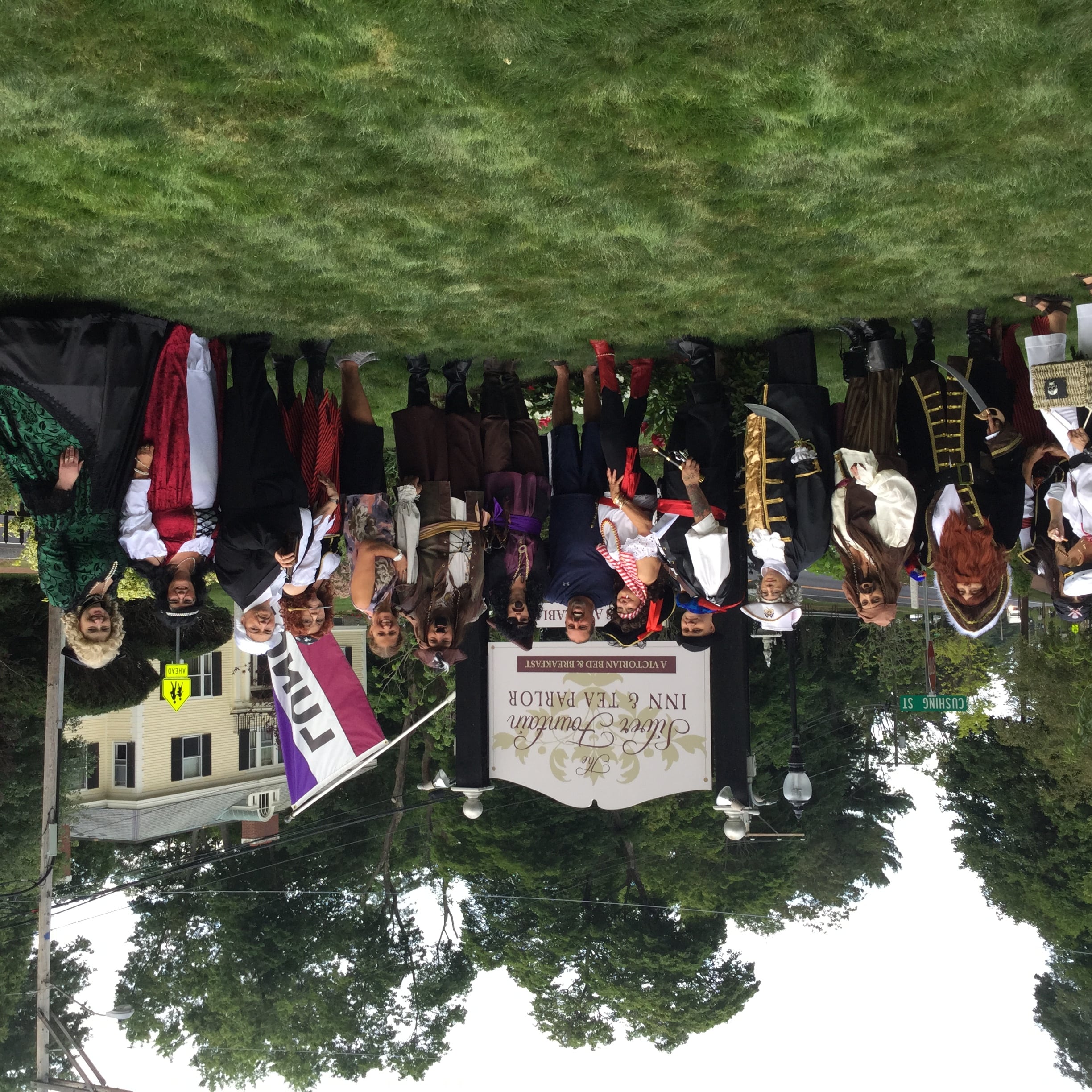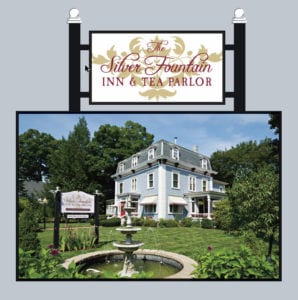 Visit Our Inn & Be Charmed
Architectural features include:
Italian carved plaster ceilings
Hand-painted trompe l'oeil canvas wallpaper
Honduran mahogany paneling
Marble baseboards
French Caen sandstone fireplaces
Italian slate and French parquet floors
Leaded glass windowed foyers
Austrian hand-cut crystal doorknobs
Belgain light fixtures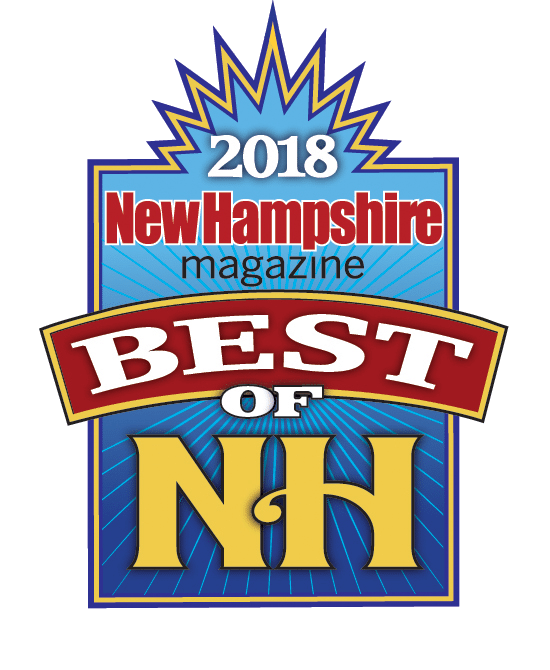 Explore Our Beautiful Inn
Check Availability & Reservations
View Pampering Options
Eat in our Tea Parlor


Recent Union Leader Review!
Read Our Gourmet of the New Hampshire Union Leader's Recent Review of our Tea Parlor: Read Here


Centrally located and therefore minutes from many neighboring towns and cities. Six miles to UNH and Wildcat territory, 10 miles to Portsmouth and 15-20 miles from many area beaches like York, Kittery and the Outlets or Trading Post, Ogunquit and The Marginal Way or Perkins Cove, Newcastle, Rye and North Hampton. Boston, the White Mountains or Lake Winnipesaukee are within an hours' drive. Explore military history at Fort McClary and Fort Foster or visit The Nubble and Goat Island Lighthouses.

Within walking distance to historic downtown Dover attractions like The Woodman or Children's Museum, and The Strand Theatre, restaurants like Orchard Street Chop Shop, Christopher's Third Street Grille, Stages (see our packaged deals for dinner and stay), Cinqo De Mayo, Patty B's, Thai Cuisine and Blue Latitudes or in addition enjoy the pub scene and farm to table cuisine at the 7th Settlement, The Farm, Cara's Irish Pub, Thompson Tavern or The Thirsty Moose.

Other nearby attractions include The Portsmouth City Music Hall, Prescott Park, Strawberry Banke, Golden Meadows, Ogunquit Playhouse, Hampton Casino Ballroom, Hackmatack Playhouse, Garrison City Players. Explore the U.S.S. Albacore, or take in a tour at the Redhook Brewery or Tall Ship Distillery. Plus enjoy a day on the greens at area golf courses like The Links at Outlook, Pease, and The Oaks in Somersworth or rather a Guided Historic Bicycle Tour in Portsmouth. Sail the Piscataqua with Gundalow Landing or Windjammer Sails. Take a leisurely or party cruise on Portsmouth Harbor Cruises or Island Cruises, go fishing aboard Eastman's Fishing Fleet or Rye Harbor Cruises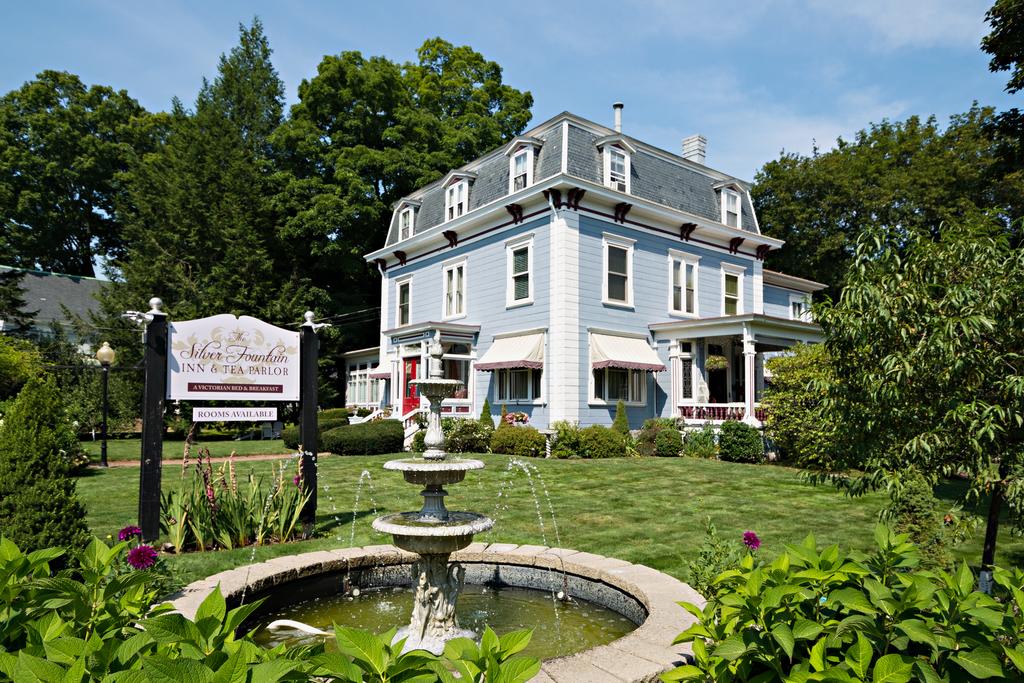 An Absolutely Stunning Dover NH Hotel
If your travels have you searching for hotels in Dover NH, then look no further than the Silver Fountain Inn. There is a reason we have been voted one of the best hotels in NH and one of the top ten best restaurants in NH… the experience you'll have with us is second to none. Not only do we offer many beautiful amenities, but we also go above and beyond to make sure our guests have a wonderful hotel experience, no matter what!
Here is what one of our recent guests had to say about her recent stay at our Inn (From Tripadvisor).
Thoughtful & Hospitable

"I spent the night at the Silver Fountain Inn by accident: they accommodated me on an hour's notice after another hotel lost my reservation. That hospitality was echoed throughout my brief stay, during which the proprietors went OVER & ABOVE to make my experience pleasant. (I was astonished that one of them cleared the snow off my car, knowing that I was in a hurry to get to work in the morning.):
Visiting Durham NH? Silver Fountain Inn is just minutes away if you want to escape to someplace quaint, hospitable and beautiful. Perhaps you're taking in a UNH game, or visiting for homecoming… or just doing some sightseeing! Either way, if you're need of a hotel in the Durham NH area, our hotel and Bed & Breakfast is a "must visit."
Portsmouth NH is a beautiful place, for sure.  And if your travels bring you to Portsmouth and you're looking for a wonderful place to rest and be pampered, then we would love for you to stay with us. Here are some things to do in the Seacoast NH area while you're here.
The perfect idea if you're looking for a beautiful Seacoast NH Getaway without Portsmouth NH hotel price tag
Of all the Seacoast Area Hotels, Silver Fountain Inn is the best one where you can plan your weekend getaway. Our hotel is just steps to downtown Dover, so you can enjoy the wonderful night life while also being delighted during your stay. You can escape to Portsmouth, Durham, Hampton, and other parts of the NH Seacoast, while always coming back to us.
Perhaps you'd like to join us for a dinner theater in our Tea Room, or even join us for one of our amazing "Murder Mystery Weekends."

Here is one review by a recent guest who joined us for this incredible weekend long experience (From Tripadvisor):

Cozy, Great Location, Excellent Breakfast

"Jim and Pam were excellent hosts. We came for a murder mystery weekend, which was a lot of fun! We'll definitely be back. The "Chamber" room was very large with a huge bathroom. The private entrance with private porch was adorable. The entire B&B has gorgeous, Victorian decor and the breakfast is not to be missed. The location is great for walking into town. Dover is very cute and there are plenty of great restaurants and places to shop."