Order a bottle of chilled champagne to enjoy upon your arrival
Join us in our elegant parlor for tea and scones or luncheon fare
Relax and enjoy a wonderful stay at The Silver Fountain Inn in one of our elegant rooms that provide the comforts of being home yet with the luxury of being pampered. Call us today at (603) 750-4200
Dover Premier Bed & Breakfast
Built in 1871, the Silver Fountain Inn is a beautifully maintained three-story Victorian Bed & Breakfast inn located in historic downtown Dover, NH. Home to the Williams family for nearly a century, its elegant design remains an excellent example of the post-Civil War era. Relax and enjoy a wonderful stay at The Silver Fountain Inn in one of our nine elegant rooms that provide the comforts of being home yet with the luxury of being pampered. Our room accommodations include a sumptuous breakfast, WiFi, Cable TV, plush robes, mini-fridge, loose leaf teas & so much more.
Now offering our own published History Book, Christmas Ornaments, Gift Certificates, Teas and more! Stop by or shop on line here by clicking on the book!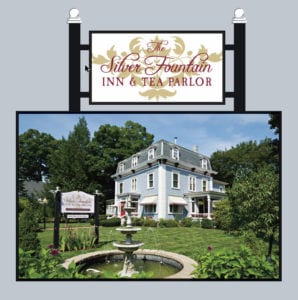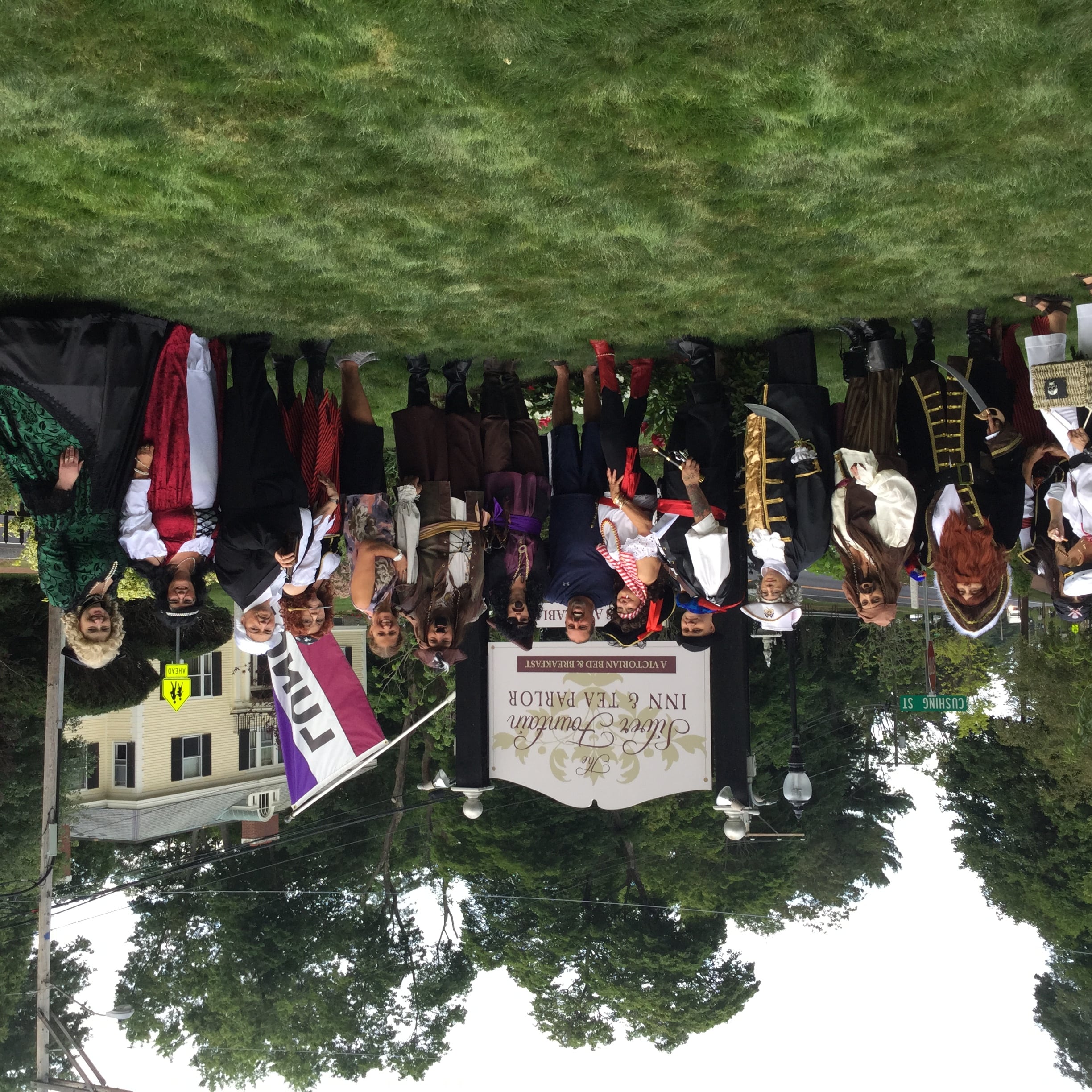 Visit Our Inn & Be Charmed
Architectural features include:
Italian carved plaster ceilings
Hand-painted trompe l'oeil canvas wallpaper
Honduran mahogany paneling
Marble baseboards
French Caen sandstone fireplaces
Italian slate and French parquet floors
Leaded glass windowed foyers
Austrian hand-cut crystal doorknobs
Belgain light fixtures

Explore Our Beautiful Inn
Check Availability & Reservations
View Pampering Options
Eat in our Tea Parlor


Centrally located and therefore minutes from many neighboring towns and cities. Six miles to UNH and Wildcat territory, 10 miles to Portsmouth and 15-20 miles from many area beaches like York, Kittery and the Outlets or Trading Post, Ogunquit and The Marginal Way or Perkins Cove, Newcastle, Rye and North Hampton. Boston, the White Mountains or Lake Winnipesaukee are within an hours' drive. Explore military history at Fort McClary and Fort Foster or visit The Nubble and Goat Island Lighthouses.

Within walking distance to historic downtown Dover attractions like The Woodman or Children's Museum, and The Strand Theatre, restaurants like Orchard Street Chop Shop, Christopher's Third Street Grille, Stages (see our packaged deals for dinner and stay), Cinqo De Mayo, Patty B's, Thai Cuisine and Blue Latitudes or in addition enjoy the pub scene and farm to table cuisine at the 7th Settlement, The Farm, Cara's Irish Pub, Thompson Tavern or The Thirsty Moose.

Other nearby attractions include The Portsmouth City Music Hall, Prescott Park, Strawberry Banke, Golden Meadows, Ogunquit Playhouse, Hampton Casino Ballroom, Hackmatack Playhouse, Garrison City Players. Explore the U.S.S. Albacore, or take in a tour at the Redhook Brewery or Tall Ship Distillery. Plus enjoy a day on the greens at area golf courses like The Links at Outlook, Pease, and The Oaks in Somersworth or rather a Guided Historic Bicycle Tour in Portsmouth. Sail the Piscataqua with Gundalow Landing or Windjammer Sails. Take a leisurely or party cruise on Portsmouth Harbor Cruises or Island Cruises, go fishing aboard Eastman's Fishing Fleet or Rye Harbor Cruises