Silver Fountain Inn | See why we're among the best hotels in Dover NH
There are many reasons why the Silver Fountain Inn is one of the best hotels in the Dover NH and seacoast area. Here are 8 reasons to spend your next vacation with us at Silver Fountain Inn.
1. We are one of the few Dover NH area hotels that allows you to experience a different era.
The Silver Fountain Inn is a three-story Victorian Bed & Breakfast inn. We offer nine rooms, providing elegance and a rich experience. As a window into the post-Civil War era, you will find masterfully crafted architectural features surrounding you. From the Austrian hand-cut crystal doorknobs, to Honduran mahogany paneling, to finding comfort in the French Caen sandstone fireplaces, you will feel like you've been placed into a completely different world.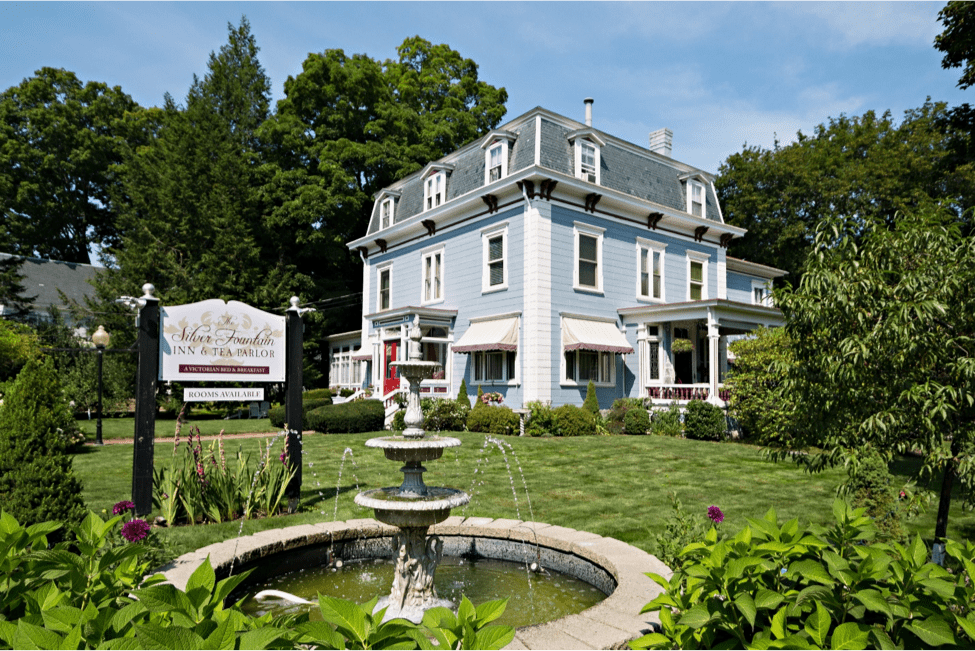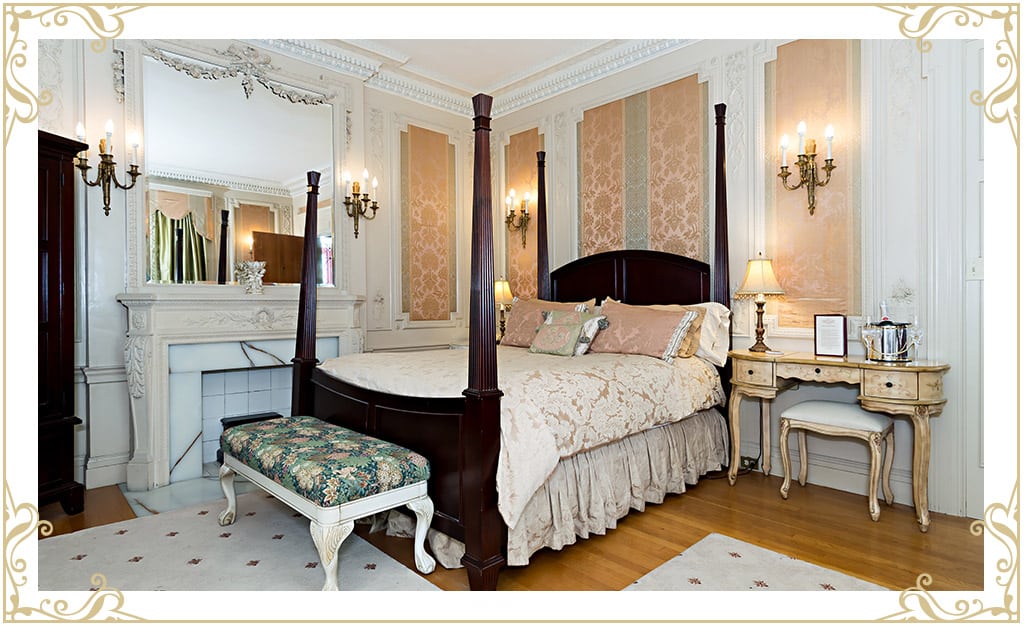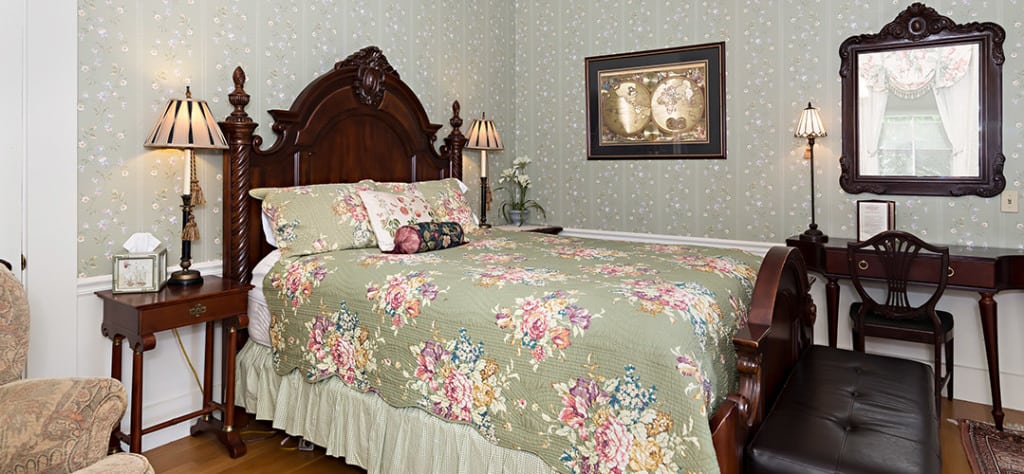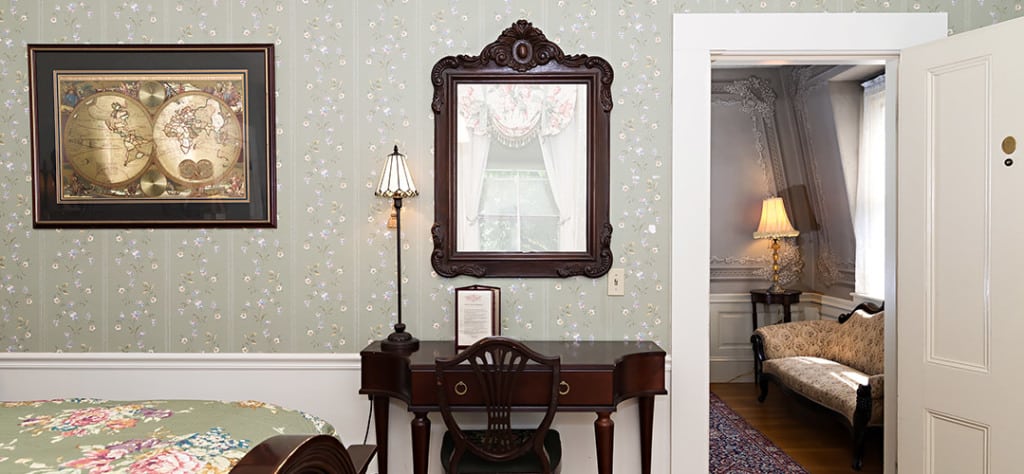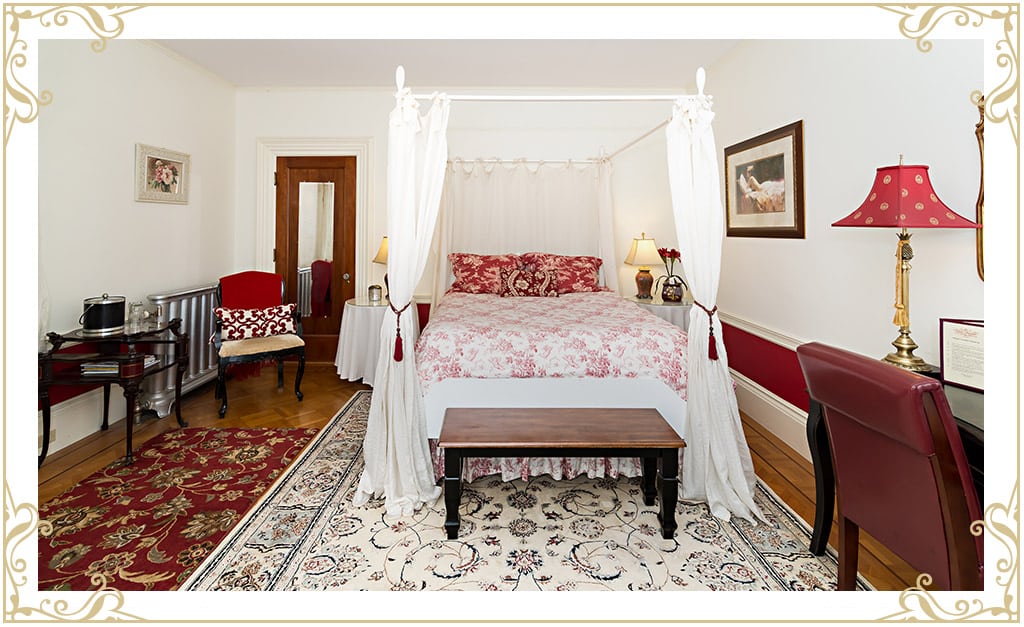 2. You can enhance your experience with many different indulgences
We offer an extravagant breakfast, plush robes, loose leaf teas, and more with every stay. Silver Fountain Inn is an experience that is unlike other hotels in Dover NH. If the beautiful Victorian experience isn't enough, there are plenty of pampering options to choose from, a tea parlor to indulge and relax in, as well as themed dinner theaters and murder mystery events.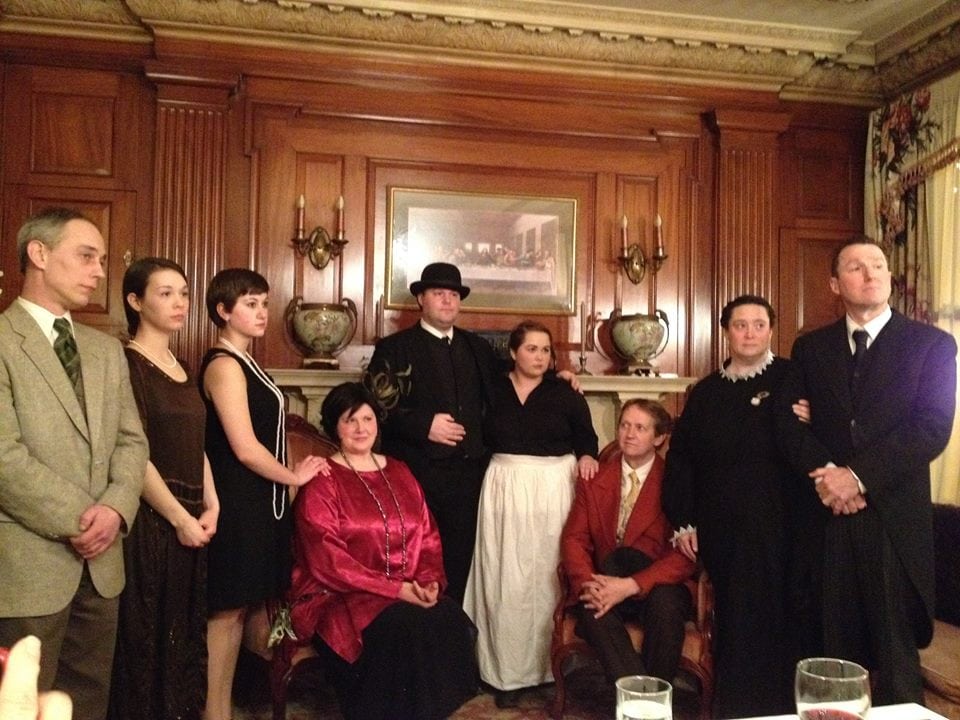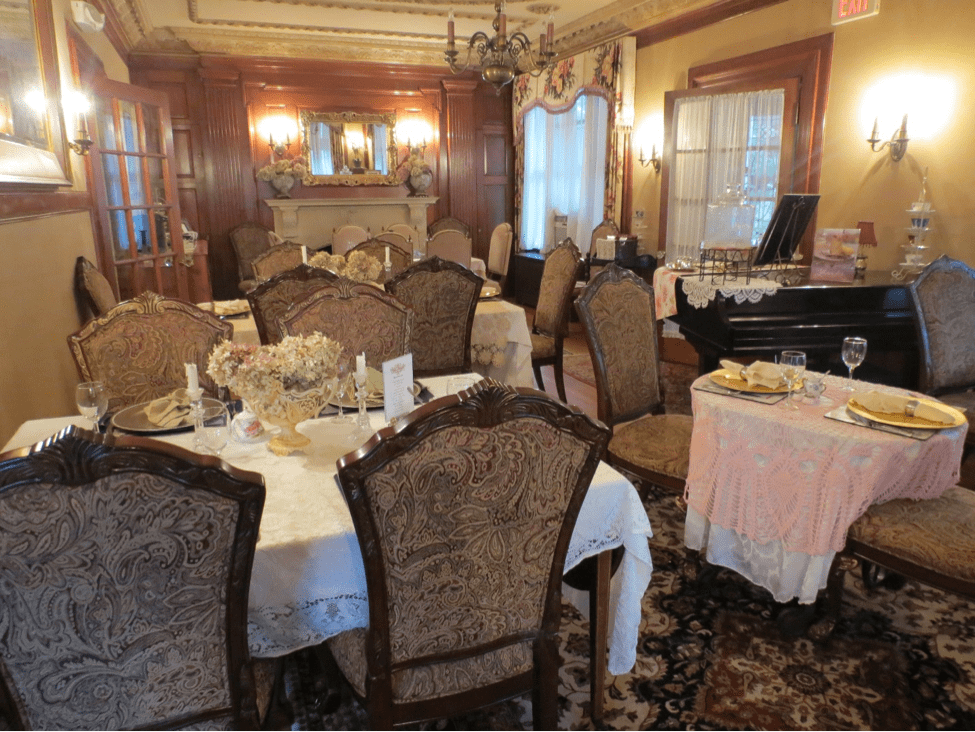 3. Silver Fountain one of the only Dover NH area hotels offering a full complimentary breakfast with your stay
While many Dover NH hotels are serving a buffet style breakfast, typically cold, The Silver Fountain Inn's Victorian experience doesn't overlook the first meal of the day. Our complimentary breakfast is just one reason why we are among the longest standing and most beloved hotels in the Dover NH area. Our well-appointed breakfast is complimentary and should mirror the treat you are offering yourself just by staying with us! We start your morning off right with a delectable scone alongside coffee, juice, or tea. Your choice of meat is freshly cooked, or perhaps you would entertain quiche or a raspberry crepe.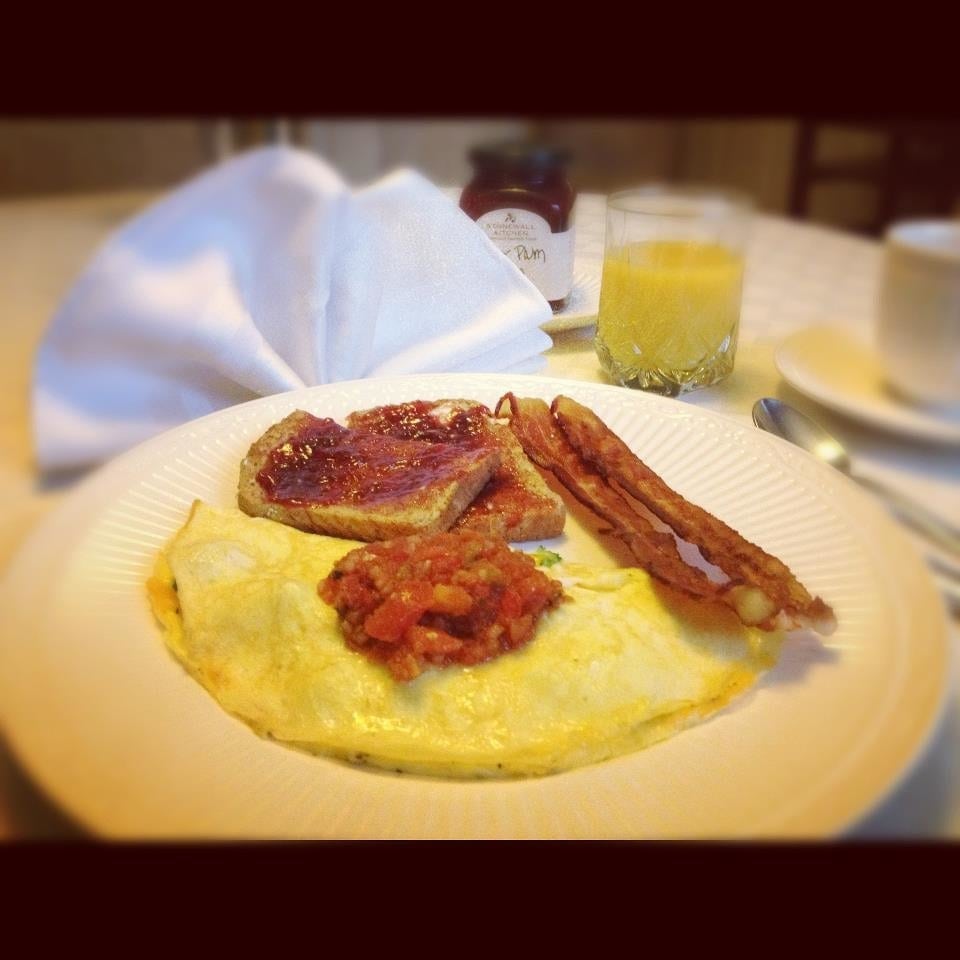 Call Us Today to Book Your Relaxing Experience at the Silver Fountain Inn, one of the most beautiful hotels in Dover NH (603) 750-4200
4. We also feature one of the best restaurants in Dover NH (actually, all of NH depending on who you ask)
Not every hotel also hosts one of the most highly acclaimed restaurants in the Dover NH area, but that's what you'll find at Silver Fountain Inn.  Book your reservation and start your meal with a cup or a pot of one of the various tea selections we offer. Menu choices range from simple to a most elegant "Duchess", a 3-tiered platter including tea sandwiches, scones, and desserts! Our menu changes monthly, so there will be plenty of new options to consider as you find yourself choosing to stay with us more often. You'll find no other Dover NH restaurants offer such warming and delectable experience.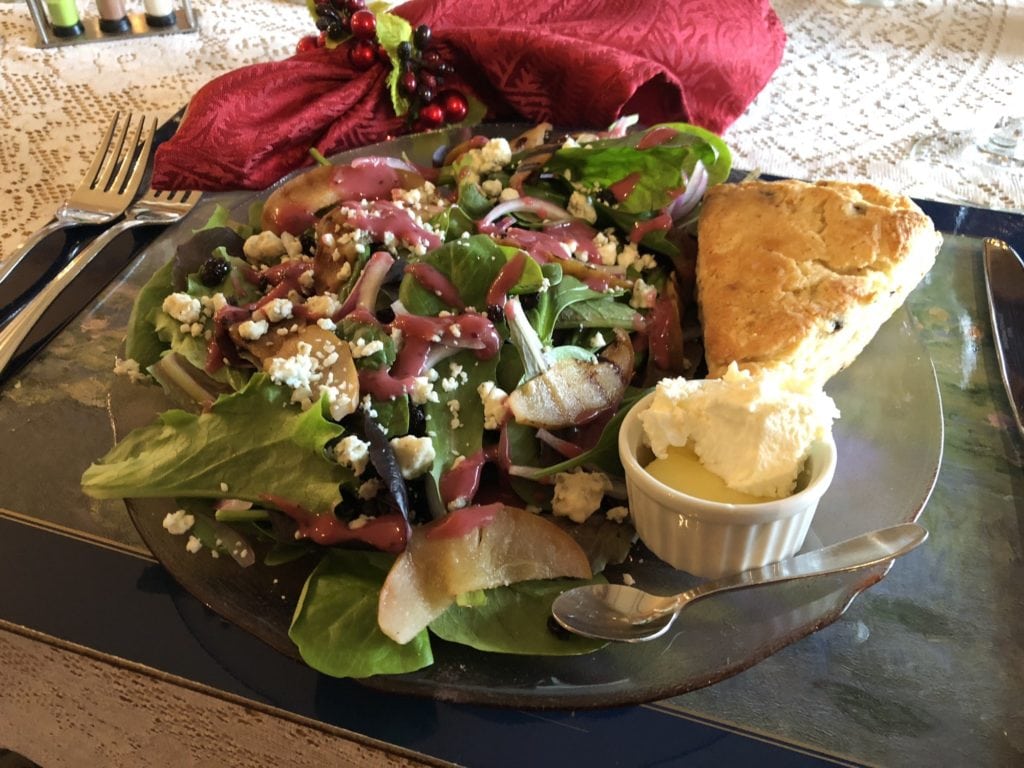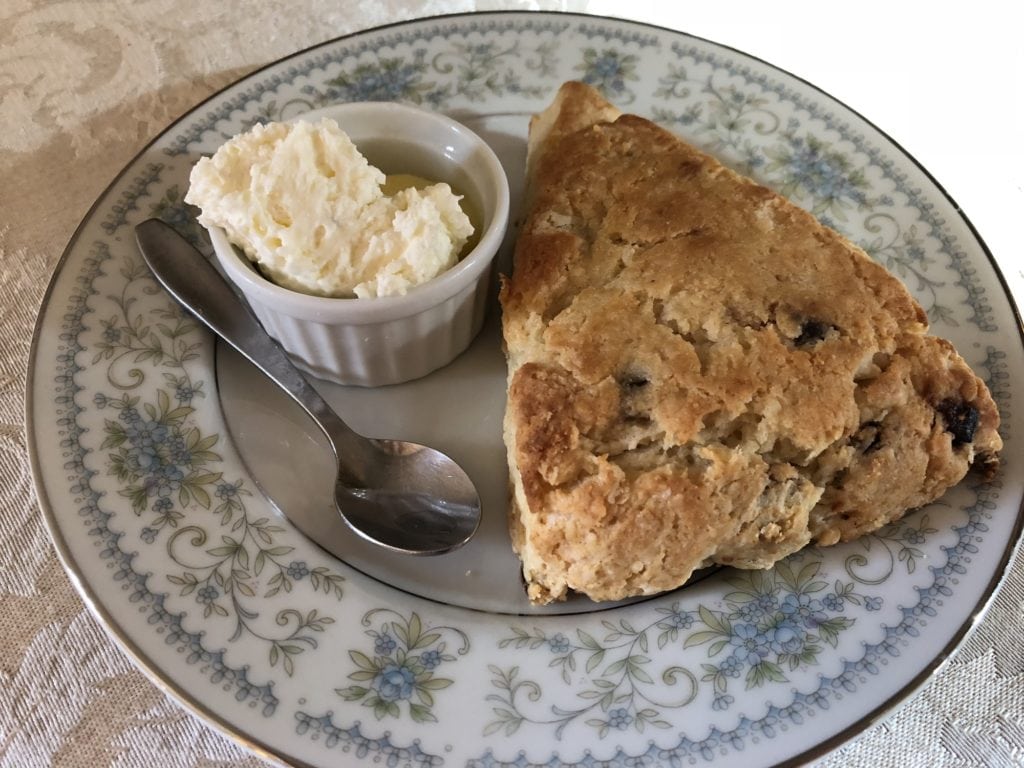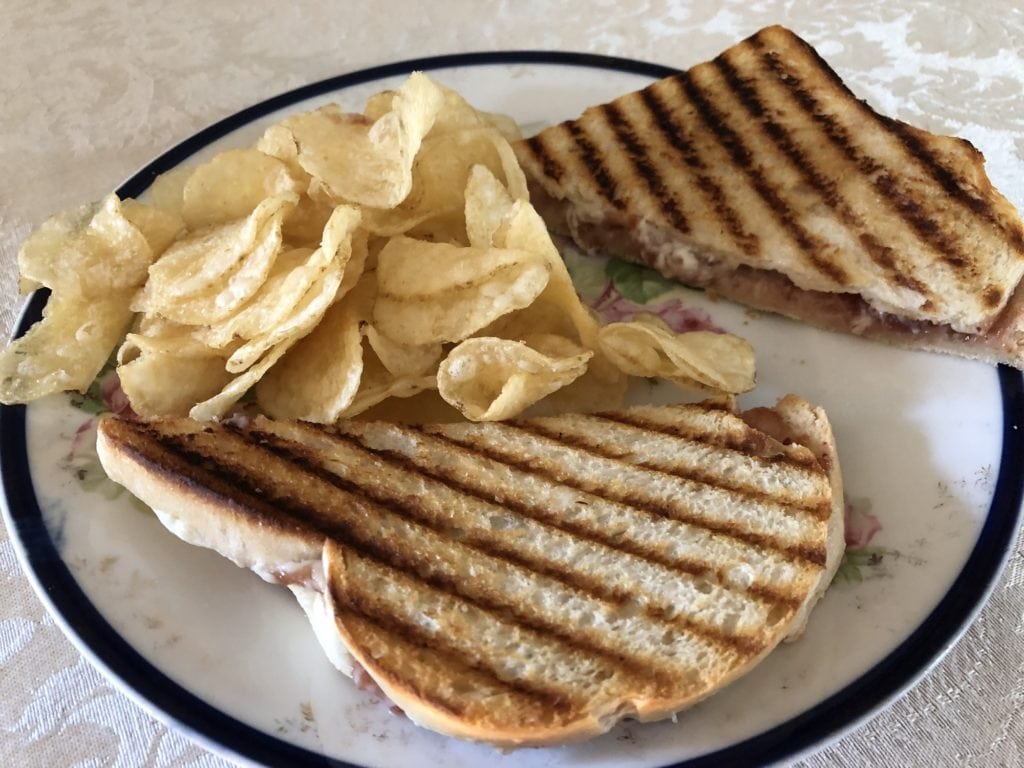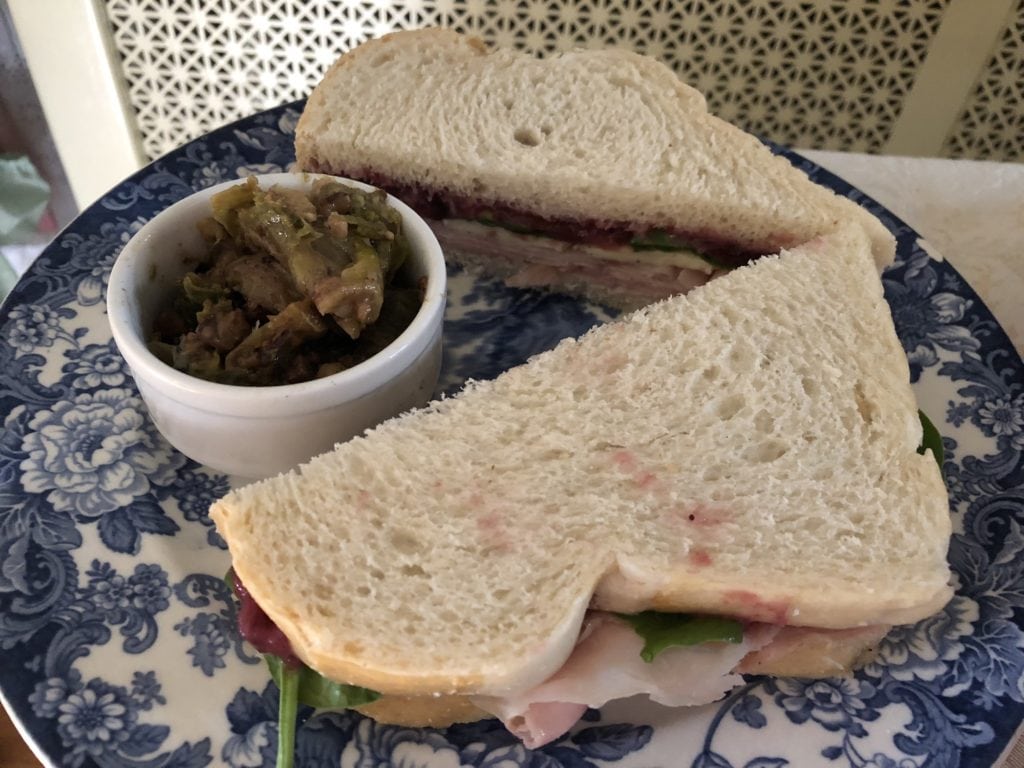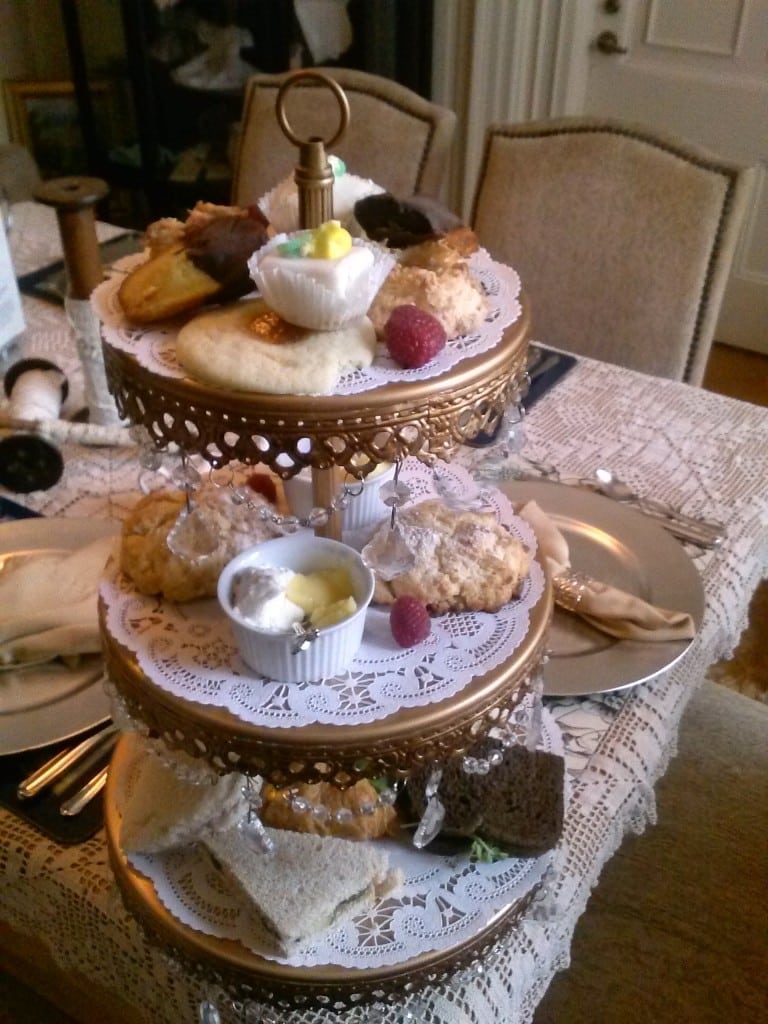 5. If you're seeking out hotels near downtown Dover, Silver Fountain Inn is your place
Silver Fountain Inn is among the best Dover NH hotels because we are only steps from downtown Dover. We are one of the best places to book your vacation. We are surrounded by sites, history, and fun, all that Downtown Dover has to offer.
Many of the most beautiful things the city has to offer are within a 12 minute walk from our Downtown Dover hotel
Here are some attractions within walking distance to our hotel:
Henry Law Park
The Children's Museum
The Historic Cocheco Mills
Many fun Dover NH restaurants such as Ember, La Festa, Blue Latitudes and Flight
The Strand Ballroom
Baldface Books
Apple Harvest Fest (if you're staying with us in October)
The Noggin Factory
Dover Wine and Brew
and much more!
Relax with us after you've experienced the town, found a theatre performance to enjoy or a comedy show to laugh at. A romantic elegant delight.
Call Us Today to see why Silver Fountain Inn is one of the highest rated hotels in Dover NH (603) 750-4200
6. Silver Fountain Inn features romantic touches you won't find at most hotels in Dover NH
You can order amenities such as cookies and hot chocolate, rose petals, and a dozen roses… right to your room! Your significant other may enjoy a simple romantic gesture like breakfast in your room, or even just to treat yourself! At arrival, you and your significant other can enjoy a bottle of champagne or wine. We recommend pairing with a bedside bouquet to show that special someone you care. What sets us apart as one of the best Dover NH hotels is our ability to make your stay a lasting memory.
7. You can take part in one of our Murder Mysteries while you're here
Murder Mysteries, ranging from themes like westerns, to pirates, the roaring 20s and more are events that this Dover NH hotel does best. Alongside the event, you will enjoy a five-course dinner, crafted right in our own restaurant. Planning a stay for the weekend? Guests who arrive Friday night enjoy dessert while reviewing the event and everyone is introduced. By Saturday, during the five-course dinner the story unfolds! Prizes and awards are included. We offer Murder Mysteries for private parties and smaller single evening events. This is just another reason to book your next vacation with us and makes us your choice of stay among Dover NH hotels!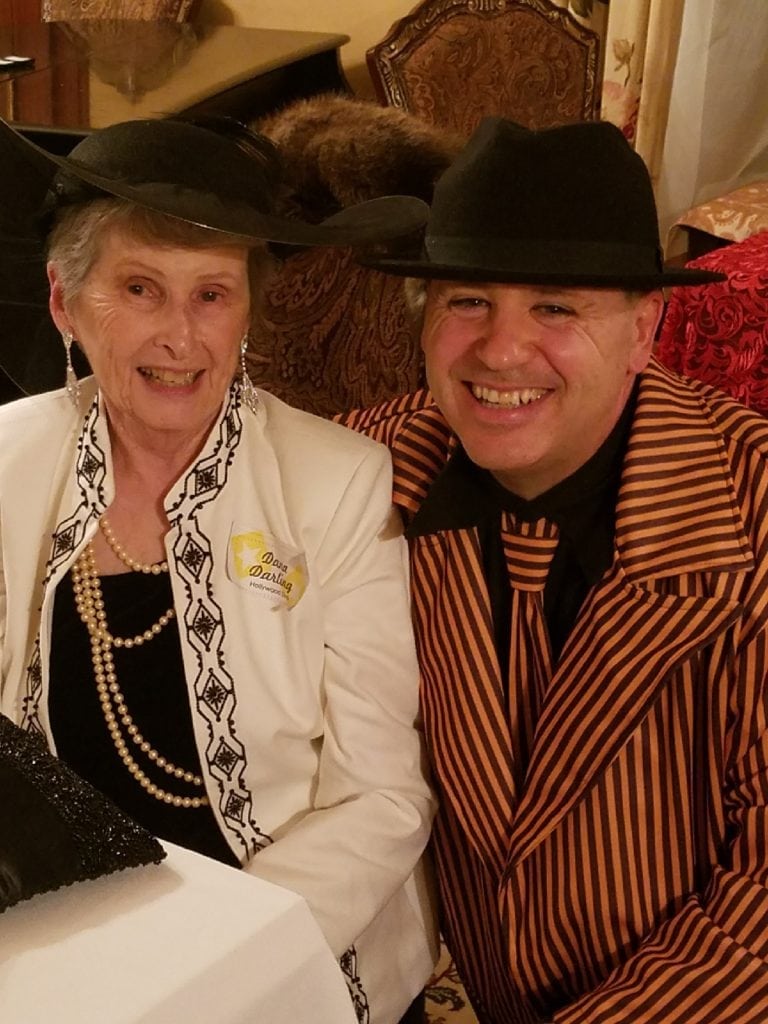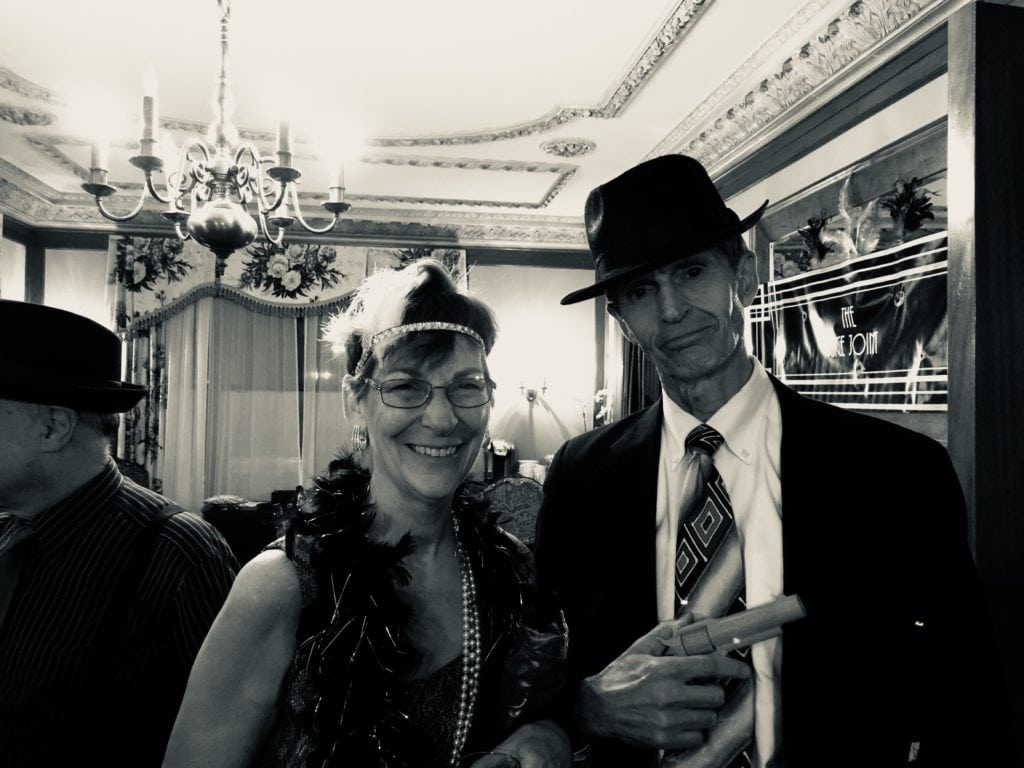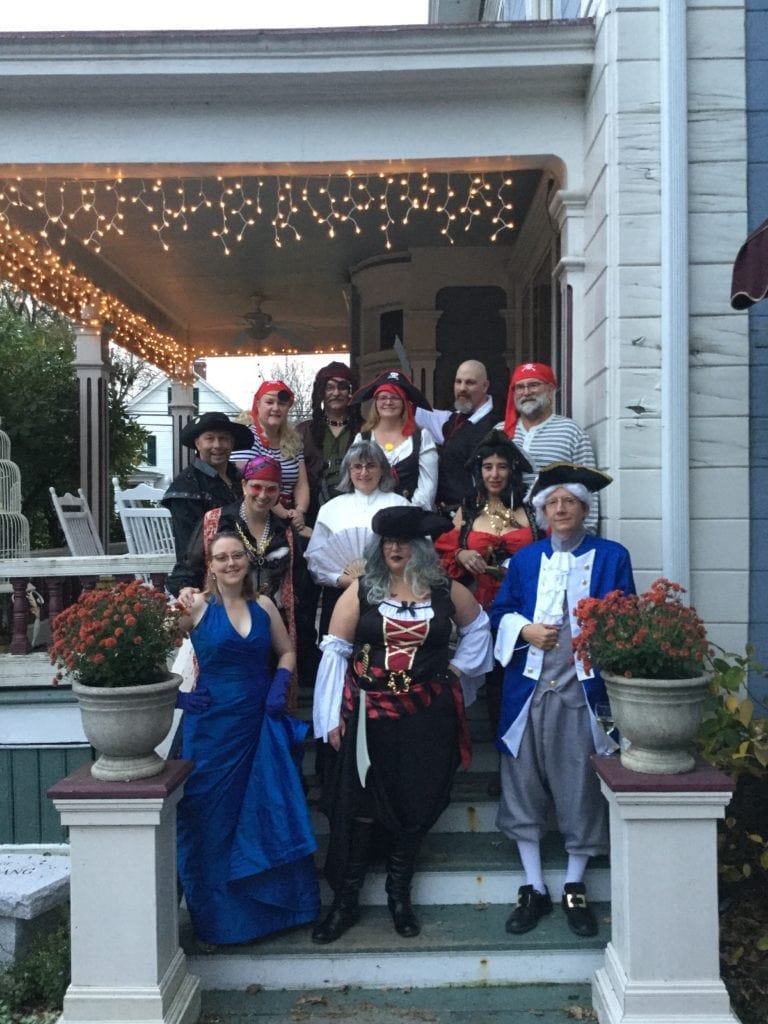 8. Why is Silver Fountain one of the top Dover NH area hotels?  Because you said so!
Our beloved guests have, time and time again, praised the experience they have had at our Inn.  Read some of their comments below, and see what all the fuss is about by booking a reservation here!  Can't wait to see you!

---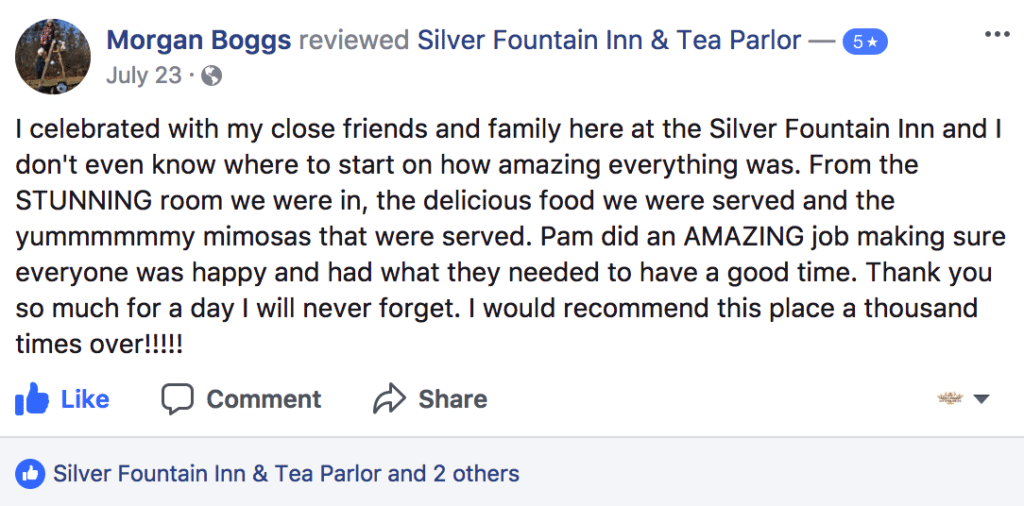 ---

Call Us Today to Book Your Relaxing Experience at the Silver Fountain Inn (603) 750-4200