Tea Parlor
Come join us for a leisurely lunch
We are very excited to see our friends and welcome new customers as well! We will have indoor seating in our Tea Room & Carriage House plus outdoor seating (weather permitting) by reservation only. Our Carriage House is always handicap accessible, however, our Tea Room is not. First and foremost please be self-aware of your current health as we ask anyone experiencing COVID-19 symptoms such as fever, sore throat, new loss of taste or smell, cough, shortness of breath or flu-like discomfort to visit us another day when you are well. Please understand that most reservations are for 90 minutes – on slower weekdays we are more than happy to let you stay at your leisure but on busier days like Saturdays and Events (listed at the bottom) the time window for your table is 90 minutes to allow for other guests to enjoy tea as well. We thank you for your patience and understanding.
The Silver Fountain Inn is now serving lunch daily Monday through Saturday opening at 11:30am & seating until 3pm (please see our closings for private functions and special menu days listed below – December is Victorian Christmas Tea Only. Our Menu offerings change monthly and offer a wide range of variety and choices. You may choose from our simple luncheon fare like sandwiches, quiche, soup and salads to the fancy "Duchess" which is our 3-tiered platter of tea sandwiches, scone and desserts. We do have Gluten Free options as well – please allow a 24 hour notice for optimal choices!
As seating is limited, reservations are preferred to allow for optimal service and selections. Please do so by calling 603-750-4200 or by reserving directly through our website through Open Table using the button below.  Please see more pictures of our elegant Tea Room in our Gallery.

We are the perfect venue for wedding and baby showers, birthday parties, and anniversary celebrations. In addition, meet here for business and pleasure luncheons or just getting together with a couple friends and enjoying lunch in our elegant setting. Please feel free to dress either casual or fancy with hats and boas!
Look for our special events and themed luncheons from Tea Leaf Reading, Mother's Day, Victorian Courtship, Mad Hatter, Valentines, Downton Abbey Inspired, Speak Easy, 1950s Sock Hop, Roaring 20s, and Lawn Soirees. Please be advised that our regular monthly menu may not be available on special event days. Please also see our "Events & Functions" tab for our upcoming Themed Dinner Theaters and Murder Mysteries!
We were recently featured on NH Chronicle, see our live clip here!
We also have gift items available from local talented artisans to include tea gift baskets, fascinators & hats, children's tea sets, fairy headbands and houses, tea wallets, cozies and Tea Shop Mystery books. We also have a selection of tea pots and all our loose leaf teas plus gift certificates are also available to buy for you to enjoy at home. Christmas ornaments and our own published history of the inn are now available as well. Feel free to either stop by or Order Online!
Please let us know at least 24 hrs in advance of allergies or dietary restrictions. Be sure to "like" us on Facebook to see our daily/weekly specials! Finally, Please be advised we are closed on Sundays and for major holidays plus private events 4/2, 4/23-4/30, 5/14, 5/21, 5/28, 6/4, 6/18, 7/2 and 8/20.
Upcoming Tea Events
We are doing a special French Tea for the entire month of May, our regular monthly menu will not be available. Our favorites from Downton Abbey are traveling to France in their new movie release this month so we thought "why not us too!" Come and experience a French menu for Le Gouter, beret included!
Served throughout May including Mother's Day.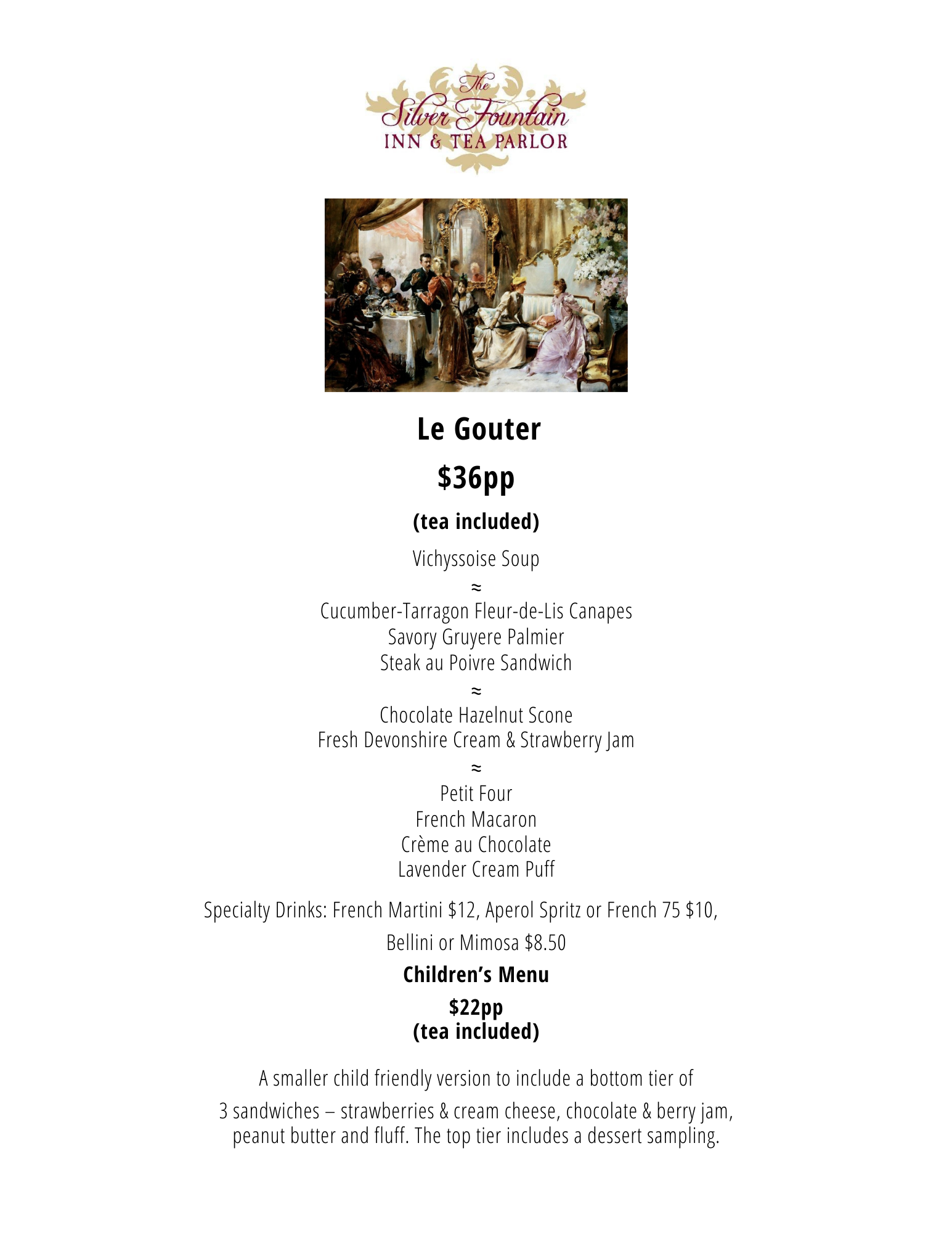 Silver Fountain Inn & Tea Parlor – Reviews
I had such a wonderful experience here yesterday. I came in for afternoon tea with my mom and a few friends to celebrate my recent engagement! I don't know where to begin- the Inn and Parlor are beautiful and so elegantly decorated. I felt like I stepped back in time and was at Downton Abbey! I ordered the Orange tea and the Duchess lunch. The tea was outstanding- I love that I had my very own teapot that was so unique! The sandwiches were tasty, especially the veggie wrap. The scones were INCREDIBLE- and the lemon butter sauce was so delicious, I could have eaten it with a spoon! I also loved the biscotti and petit fours. Truly a lovely experience and I already want to go back!