Bridal Showers
Let us make your shower a special intimate event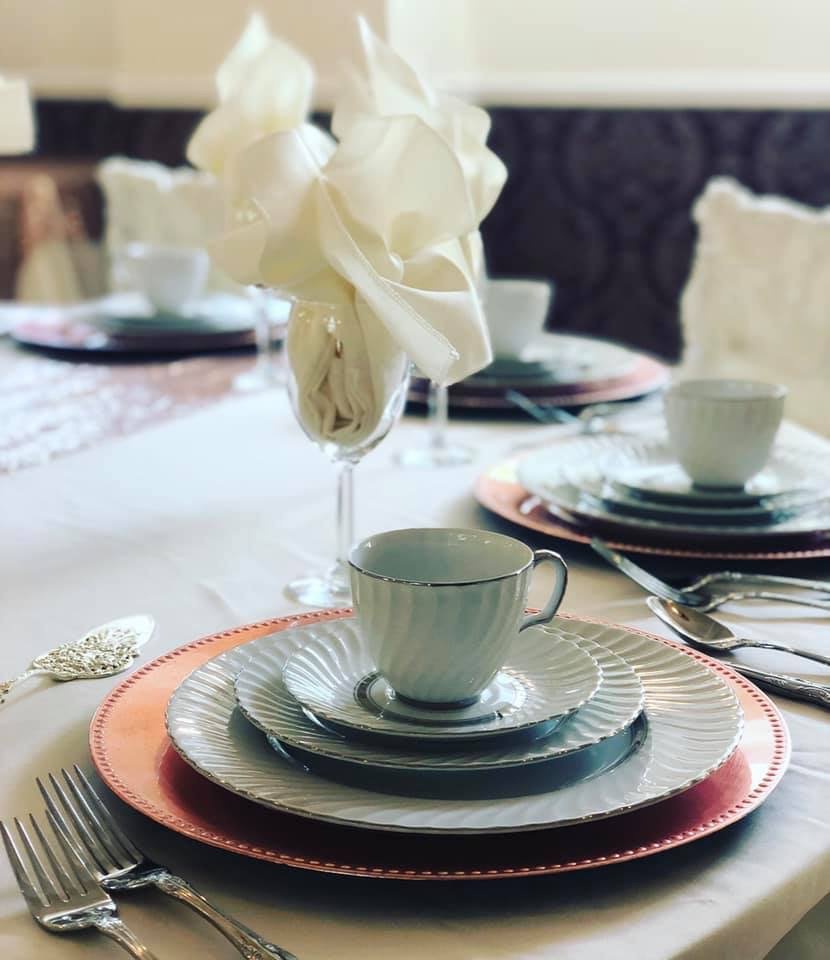 Bridal Showers are our specialty, our elegant inn needs no decorating except your personal touches as we are limited due to the historic nature of the inn with any type of decoration that could harm the integrity or original workmanship of the inn itself. We do not charge for the function or room itself, but we do require that every guest order "The Duchess" or one of our other shower packages which is priced between $32-44pp and our minimum guest requirement is 20.
All packages are served accordingly on decorative 3-tiered cake stands and we provide all linens, plate-ware and flatware on our fancy tea settings.
Our tea room can comfortably hold up to 26 and our Carriage House can be used for larger groups up to 60, whichever option works best for your group. In addition, we can also offer signature drinks, mimosas and wine if desired, either through open bar, cash bar or ticket basis. We suggest coming by the inn to see its' elegance and offerings or our amazing virtual tour! Have out of town guests coming for your event, have them stay here and book directly through us at a 10% discount! A non-refundable $300 deposit is required to hold your date and therefore applied to your final bill.
Want to do it all yourself? You can now rent our new space in the Carriage House for $300/hr. Some restrictions do apply, no outside alcohol is permitted, bar available.



Looking for something special?
We have our own bakery services here and can help you create a special favor or cake for your special day
Click on "Bakery Services" below to see just some of our creations!!
Debutante

Soup, choice of chilled strawberry, chilled honeydew melon, warm lemony asparagus or butternut squash
Quiche, choice of blueberry goat cheese, Mediterranean or strawberry blue cheese
Cucumber & dill sandwiches
Petit fours
Scones
Unlimited tea and non-alcoholic drinks
Champagne toast
Served in courses
$40 per person
Queen's Fare

Soup, choice of chilled strawberry champagne, chilled honeydew melon, warm lemony asparagus or butternut squash
Quiche, choice of blueberry goat cheese, Mediterranean or strawberry blue cheese
Cucumber & dill sandwiches
Side salad, watermelon feta & mint or caprese
Sweet scone w/Devonshire cream & curd
Petit four, tart, madeline
Unlimited tea and non-alcoholic drinks
Champagne toast
Served in courses and tiers
$44 per person