Themed Dinner Theatre
Join us for a 5 course dinner and performance
Our Themed Dinner Theaters are performed either in our beautiful turn of the century main parlor or our new function space, depending on the event, lending an elegant intimate setting with limited seating per show, approximately 20-30 per show. Not to be confused with our Murder Mystery productions, Themed dinner theater shows are masterfully performed by Vagabonds Productions, Garrison Players and Theater Unmasked plus other local acting groups. We create our dinner courses and drinks around the dinner theme therefore, please let us know when ordering your tickets about any dietary restrictions to allow us ample time to accommodate your needs.
To purchase your tickets directly through the inn call 603-750-4200 or online via the button below, all ticket purchases are non-refundable unless we can re-sell the ticket. Past dinners have included Downton Abbey, Who Dunnit, Dracula and A Christmas Carol. Pre-notification will go to our mailing list contacts first and most shows are adult appropriate only.
Order OnlineIf you are looking for something new and exciting to do with that special someone… join us for a wonderful dinner theater event. It's something you won't soon forget!

2022 Themed Dinners
(Stay tuned for details)
Tales of the Titanic
Enjoy courses from the original First-Class Titanic dinner offerings while experiencing the tales from passengers, survivors and victims of the Titanic Disaster. Tickets are $85pp including tax & gratuity are included and may be ordered by phone or directly on line through our site by using the button above – gather some friends and receive a 10% group discount for parties of 6 or more. We also offer room accommodations for guests with dinner tickets at a 20% discount.
Friday and Saturday dinners are 6pm-9pm and seating is limited, call or purchase online to reserve your spot now!
Menu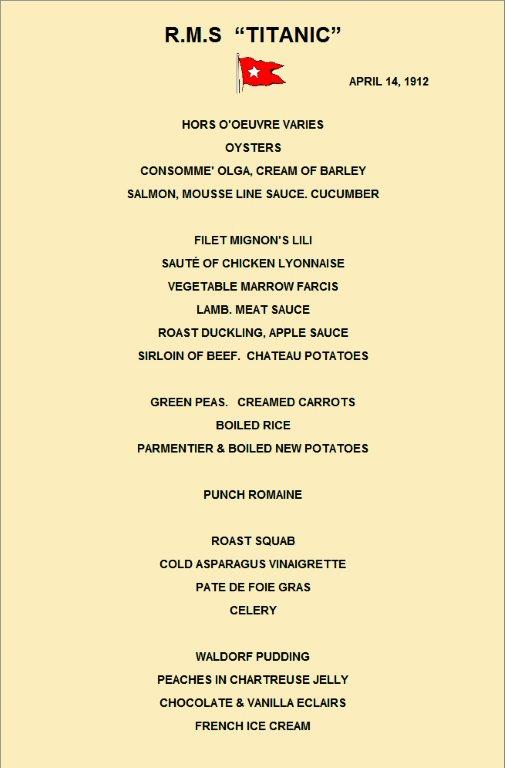 *** We will not be hosting Tales of the Titanic in 2022. We look forward to Dinner Theatre events when they return! ***