A Christmas Carol - Themed Dinner Theater
Join us for a 5 course dinner and performance of your favorite Holiday production
It's that time of year again!  The air is getting chilly, many of the leaves have already fallen, Apple Harvest Fest is behind us… and now you're looking for another fun thing to do in Dover!  Look no further than Silver Fountain Inn and our production of A Christmas Carol, produced by Garrison Players and held at the beginning of December.
Enjoy a five course meal and brilliant theater in an intimate setting.  Book your tickets here, and feel free to stay for the night!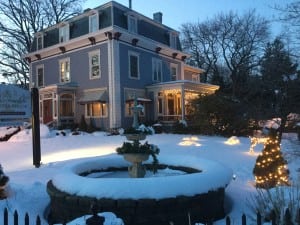 If you'd rather purchase your tickets directly through the Inn, please call 603-750-4200.  All ticket purchases are non-refundable unless we can re-sell the ticket.
Whether you're a NH Seacoast theater lover or are simply looking for a new and exciting Holiday tradition, seeing A Christmas Carol at Silver Fountain Inn will be an experience unlike any other, and one you won't soon forget.  Can't wait to see you!
A Christmas Carol
2019 Dates To Be Announced
2018 Dates Below
November 30th, December 1st, 7th, 8th (1st & 7th, 8th are sold out, we may add a couple dates, please call for a waiting list)
 Kick off the Holidays with Charles Dickens "A Christmas Carol" as it comes to life during your 5 course dinner here at the Inn! Performed by Garrison Players, this Christmas classic will run 4 nights this Holiday season.  Tickets are $80 per person including tax and gratuity ($65 ticket + $5.85 tax + $9.15 gratuity) and may be ordered by phone at 603-750-4200, or online at this link.  Get a group together, and enjoy a 10% discount for parties of 6 or more.
Want to stay the night?  Room accommodations are available at a 20% discount for A Christmas Carol ticket holders for event night. If you prefer a vegetarian dinner option, please alert us in the note section – most of our dinner options are gluten free.
Friday and Saturday dinners are from 6pm – 9pm and seating is limited. Call or order online to reserve your spot now.  Can't wait to see you there!